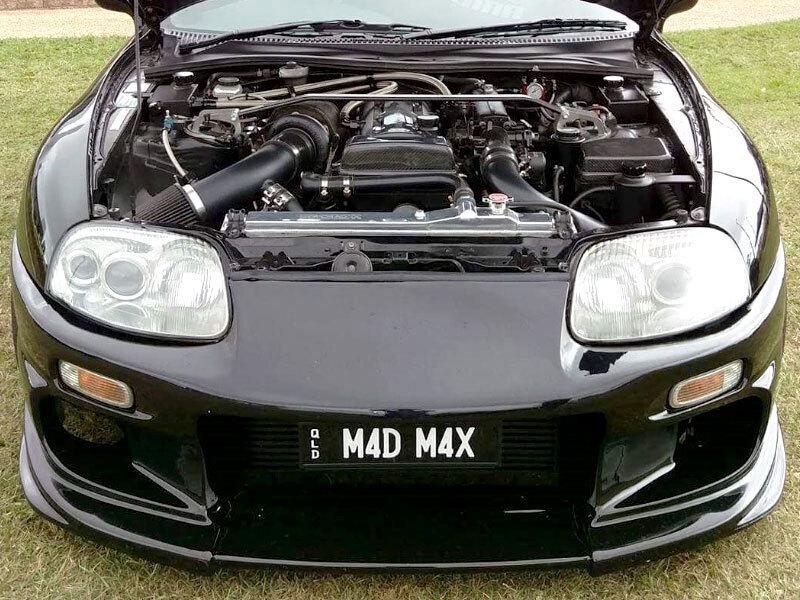 Wednesday, November 29th 2023
Witness M4D M4X
With a family of Mad Max enthusiasts, Shane Hopton, from Gladstone, aspired to create the car of his dreams by recreating a childhood favourite.
After Shane's parents introduced him to the Mad Max films as a child, he not only grew to be a fan of the movies but a huge fan of the iconic Mad Max cars featured in the films.
Shane pays homage to Night Rider and purchased a black 1993 RZ Supra in 2011, leaving no expense at striving for perfection.
"There is very little on the car that wasn't replaced with new parts from Toyota or improved with aftermarket options", Shane explains.
With an upgrade to the engine and huge works on the internal furnishings of the car, Shane and entrusted friends James and Alanah Pogson from GameOn Motorsports worked tirelessly on his ride for over three years until Shane was happy.
Whilst in the process of rebuilding his car from the ground up Shane sought out his perfect set of personalised plates.
While searching on PPQ's Create-a-Plate, Shane managed to snap up the combination M4D M4X.
Choosing a framed prestige plate with white writing on a black background, Shane didn't waste any time in securing the plates, even before his car was ready!
"I thought the combination M4D M4X was fun and modern enough for it to look cool and everyone will still get it!"
Shane continued working on his car and finally attached the plates once it was finished in 2014.
"I don't see the plates going anywhere! Even if I sold this car, I would buy another black car and do it all over again."
With a car as unique as this one, Shane says the public often recognise his car which gives him a great sense of achievement for creating something so special.
"Heaps of people talk about Mad Max and I get waves and horn beeps and have plenty of people taking photos!"
Shane says it was his goal to recreate a Japanese muscle car with a hint of Aussie history.
"This was my take on the Mad Max car and even the older generation of Hot Rodder's and Muscle Car enthusiasts have been well receptive to my idea!"