Who's Afraid Of This Bad Wolf?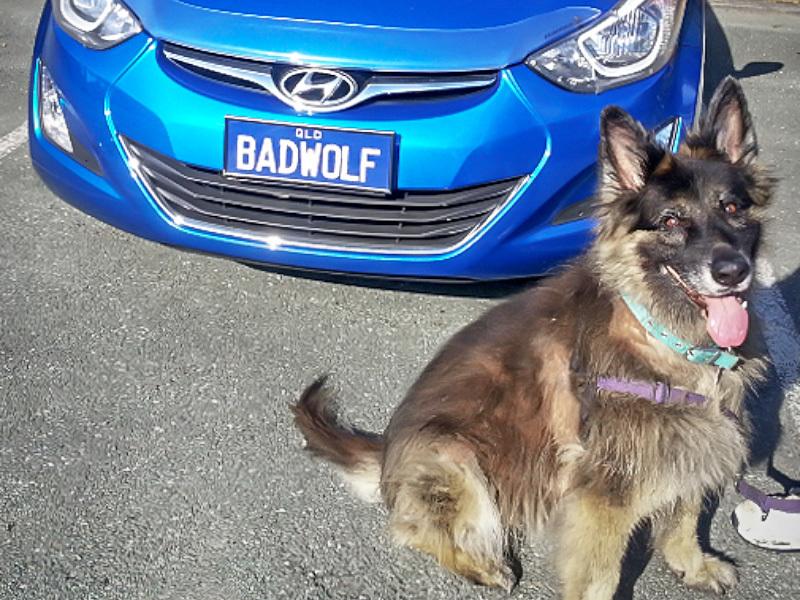 Wednesday, November 29th 2023
Who's Afraid Of This Bad Wolf?
It all started with an obsession for the TV series Doctor Who, a love for German Shepherd dogs, and the determination to find the perfect number plate.
Meet Heather, the Queensland woman and passionate Doctor Who fan behind the very audacious plate BADWOLF.
After purchasing her Blue Elantra Hyundai, Heather was after a number plate that would customise her car to her individual style.
"I decided to spoil myself with a personalised plate," she explains.
"I've been watching Doctor Who since I was a child and wanted a plate that celebrated my fandom."
After searching for the right combination, Heather's combination BADWOLF came at the recommendation of her husband.
"Imagine my excitement when I found it was available!"
For Heather, BADWOLF was not only a reference to her favourite TV show, but also a family joke.
"Over the years, we've owned four very dearly loved German Shepherds and whenever they've done something particularly cheeky, we've always referred to them as behaving like 'very bad wolves.'"
Heather appreciates her 7-character prestige plate as a form of personal expression.
"It seemed like the obvious choice to remind me of some things in my life that make me happy."
Heather has received priceless reactions from strangers complimenting her on her plates.
"I've lost count of how many times people have told me how cool my plate looks."