Robyn Shows Her Love for RSPCA's Best Friends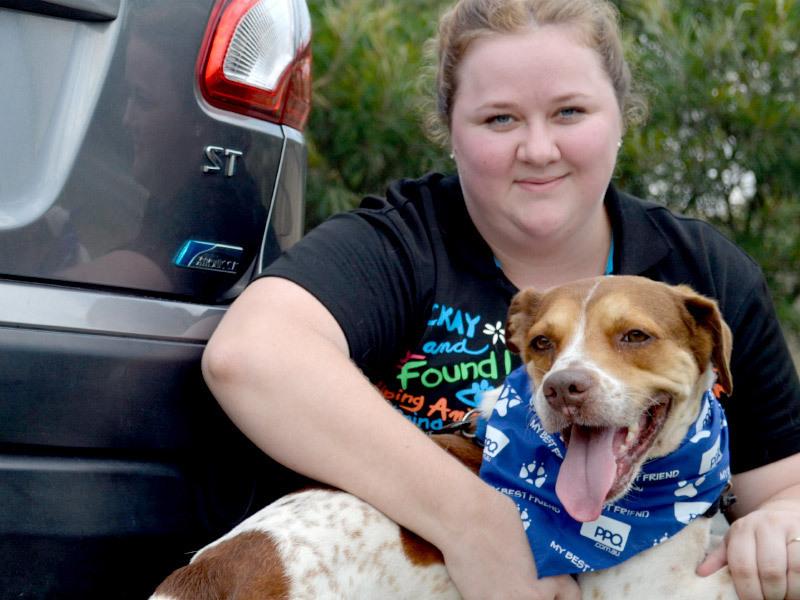 Thursday, December 7th 2023
Robyn Shows Her Love for RSPCA's Best Friends
For Queenslanders, plate expression stems from a variety of reasons. Ipswich native Robyn Mackenzie loves animals of all kinds. From lorikeets to puppies, Robyn has been an animal lover from a young age.
A childhood spent around animals sparked Robyn's passion for working in the animal rescue industry and educating the public about animal welfare.
"I was always going to be around animals. Growing up we always had pets."
At the age of 21, Robyn has already achieved her dream job, as the Customer Experience Volunteer Coordinator at RSPCA Wacol.
Her day-to-day full time role at the RSPCA involves training volunteers and helping them settle them into their roles in the Customer Service team. However, with Robyn's passionate attitude for her work, she's happy to help wherever needed.
"I do often take calls and sometimes do call outs for adoptions."
Although Robyn says her job is rewarding, she explains it can also be quite sobering, as the team receives a large volume of daily calls relating to animal cruelty reports.
"I started off working with cruelty complaints; that really knocks you around a fair bit. You don't realise the severity of it, and it happens day to day."
However, Robyn does describe events such as the RSPCA annual Pop up Adoption and Big Adopt Out as the most rewarding part of her role.
"You've also got the highlights, which are the adoptions. You get to find a forever home for the animals. You get to see the beginning of their adoption journey… to then see them bouncing out the door with a new family."
Not only does Robyn support the welfare of animals through her work at RSPCA, but through her own initiatives, has welcomed countless animals into her home- and heart.
Through her work with the RSPCA, Robyn has adopted three turtles named Ralph, Leo and Donni, two cats named Narla and Luna, a Guinea pig named Bubbles, five lorikeets and a White Swiss Shepherd named Tyson.
Together, Robyn and her brood form an eclectic tribe. "My little pets, my little family."
One of the many ways that Robyn expresses her love for animals is with her RSPCA-themed personalised plates.
"I was looking at plates for a little while and I was looking at the Man's Best Friend plates and noticed some of the monies go towards RSPCA. I'd seen them driving past me on the highway occasionally and they always stood out."
Robyn with RSPCA Wacol office dog, Myth
Robyn's plate combination is 96RLM, featuring her year of birth and initials. Robyn says this was the perfect way for her to personalise her RSPCA Pet plates.
For this animal lover and advocate, her plates are an extension of the passion she lives out daily.