Rabbitoh's fan hopped away with the perfect plate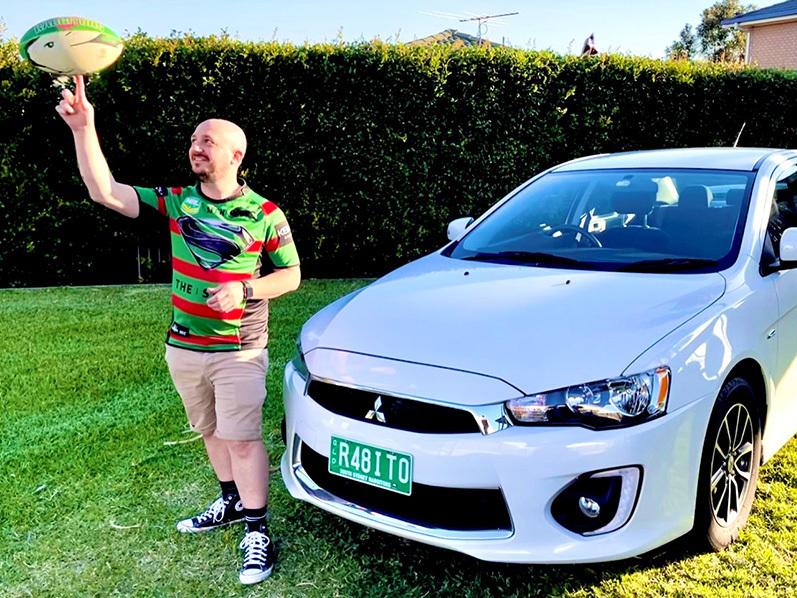 Thursday, December 7th 2023
Rabbitoh's fan hopped away with the perfect plate
"I am a passionate Rabbitohs supporter and when I saw the 'R48ITO' combination was available, it was a no brainer, I had to have them,"
Meet Nathan, a South Sydney Rabbitohs super fan and proud owner of the plates R48ITO. The passionate supporter loves that his plates spark joy from fellow supporters, and that they have had a surprising influence over his wife's renewed love for his favourite team.
"I am a passionate Rabbitohs supporter and when I saw the 'R48ITO' combination was available, it was a no brainer, I had to have them," Nathan said.
"I love being able to show my Rabbitohs pride on my car, it really shows my passion.
"It has also had a flow on effect to my wife. As she often drives the car as well, she has also become a keen supporter!" Nathan laughed.
While the Rabbitohs have had some rollercoaster seasons the past couple of years, they are finally in a position to bring some joy to their fans. Even the threat of some friendly ribbing from rival team fans wasn't enough to deter Nathan from showing off his love for his favourite team.
"I've been following the Rabbitohs for close to 20 years now and haven't looked back," Nathan said.
"Most of my family and friends are Broncos supporters and I bought the plates during one of Broncos' better seasons. So at first they were 'embarrassed' for me, but after this season just passed, they have been pretty quiet!" Nathan said.
The Rabbits have had a great year and it is a testament to their skills that they are playing for a spot in the Grand Final this weekend.
"I've been following the Rabbits for close to 20 years now and haven't looked back. I started following them to support the underdogs and I have supported them ever since… through the highs and lows" Nathan said.
"It's good to be able to share your passion. There is nothing better than driving past a fellow supporter and getting a cheer of 'UP THE RABBITOHS!' from the side of the road. Puts a smile on my face every time!"
With all 16 NRL teams available, with 3 letters and 2 or 3 numbers in any order, take your NRL team passion to the streets.