JDM plates hit Queensland roads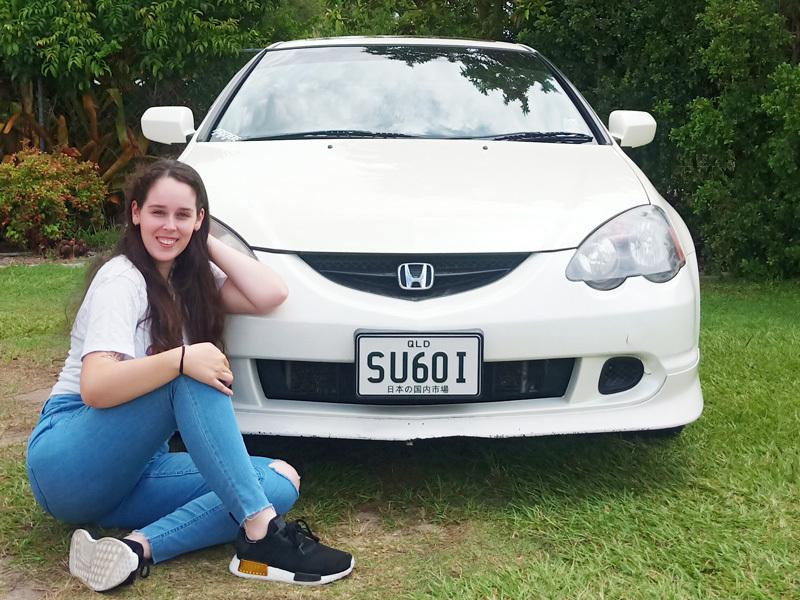 Wednesday, November 29th 2023
JDM plates hit Queensland roads
The long-anticipated Japanese Domestic Market plates (JDM) have finally dropped and for JDM enthusiast Brenna Dransfield, excitement is an understatement.
Brenna's obsession with Japanese culture was passed down from her passionate father, Mark, and she's been a fan for as long as she can remember.
"Growing up with a Dad who has owned 37 cars (most of them Japanese) fuelled my fascination for the Japanese Domestic Market and Japanese culture as a whole."
"I saw the Japanese car manufacturers were releasing interesting and powerful sports cars, and I started to become interested in owning something Japanese," Brenna said.
She finally joined the JDM market with the purchase of her 1995 Honda Integra DC4, which she decked out with the plate 8R3NN4.
However, when JDM plates launched this February, Brenna could finally put an authentic finishing touch on her beloved Honda.
When she heard rumours that Queensland was introducing JDM personalised plates, she began to search for combinations of popular Japanese words including Ohayo, Tokyo, Osaka, and Sugoi. Brenna delights in recounting "I was stoked when SU60I was available, and purchased it immediately."
In Japanese sugoi means to express something in an extraordinary way, an appropriate expression of Brenna's love for all things Japanese.
"Being able to put JDM plates on my Japanese car is very special. Although my car is Australian compiled, adding JDM plates makes it much more Japanese and reminds people of my true passion for JDM cars," Brenna exclaimed.
As soon as Brenna shared a photo of her plates on social media, she was bombarded with compliments on how the size of the plates fitted on JDM enthusiasts' bumpers so much better than the standard sized plates.
"To me, personalised plates give my car character. My 8R3NN4 plates symbolise that the car is a reflection of my personality, and my SU60I plates express my passion for cars and Japanese culture in general."
Brenna explains, "The JDM community, specifically, is known for their individuality, boldness, and ability to connect with each other."
"Whether someone is running the track for the first time, or they're doing minor modifications on their vehicle, everyone is met with good advice and support, and everyone's passion inspires each other's builds. It's almost like a family. No matter whether your car is big or small, fast or slow, you're always welcomed and met with equal amounts of respect."
"Being different has always been important to me, and I reflect a lot of my personality through my car."