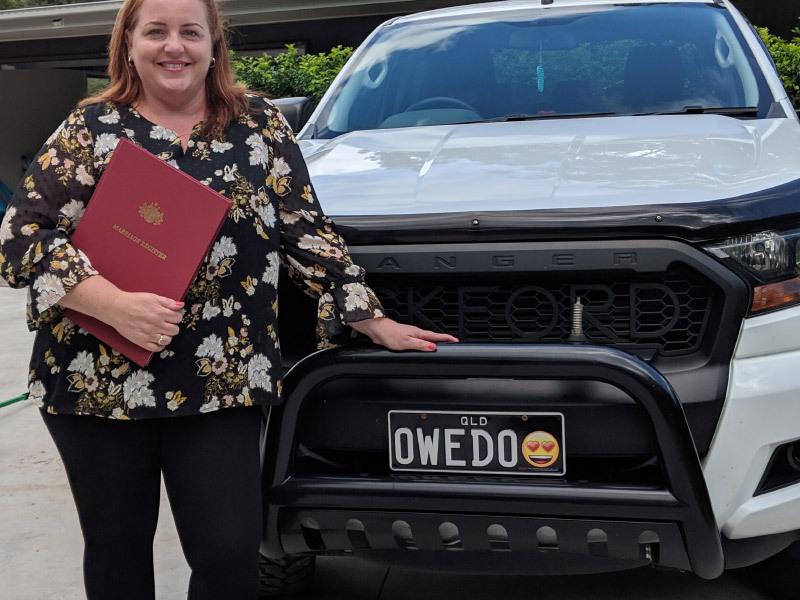 Thursday, December 7th 2023
Heart Eyes for Emoji
Originally hailing from Sydney, 42-year-old Lisa Brereton followed her heart all the way to the gorgeous Sunshine Coast Hinterland, where she fell in love with the job of her dreams.
Ready to jump into a new and exciting chapter of their lives, Lisa, her husband and their 11-year-old son, packed up their lives in Sydney and moved themselves to beautiful Montville.
With Montville boasting spectacular landscapes and picturesque views, Lisa knew that this was the perfect place to start her new career as a Civil Marriage Celebrant.
"I wanted to help couples have the best day of their lives," Lisa said.
Being a newly registered celebrant, Lisa has been doing all she can to get her foot in the door.
An essential part of Lisa's new business strategy was to make a lasting impression on the locals, so when she saw PPQ's new emoji Plates, she knew she had found her perfect match.
"When I saw the ads for the new emoji plates, I couldn't wait to get a plate for myself" Lisa said.
With five emoji designs to choose from, Lisa knew instantly that the Heart Eyes emoji Plates were the perfect fit for her loved up profession.
Knowing she wanted to feature WED - for 'wedding', in her combination, Lisa was thrilled when she came across 0WED0.
"I was so excited when I did a search and found that the combination was available," Lisa explained.
With a combination that could be interpreted in a few different ways, Lisa is often quizzed on the official meaning of her plates.
"People ask if it is 'WED' with two zeros so it is symmetrical or if it is a play on the words for 'Oh, We Do'. I don't ever answer, I just say 'what do you think?" Lisa explained.
Lisa purchased her emoji Plates during PPQ's launch month in March 2019 and is now one lucky Queenslander who holds a piece of emoji history.
"I love emoji's so I thought, why not!" Lisa said.
Waiting patiently in Lisa's garage for repairs is her 1966 Mustang, which she hopes will have plates of its own soon.
"Another 'WED' combination will need to go on the Mustang when it's ready," Lisa said.
Living in the heart of Montville with a beautifully manicured, leafy green landscape stretching across 20 acres, Lisa's home is often chosen by clients who wish to have a simple elopement or unique pictures.
Being in such a beautiful part of the world, Lisa says she often has to remind herself that she isn't on an extended holiday.
Being a relaxed, friendly and fun celebrant, Lisa's emoji Plate was the perfect way to express her personality and promote her business.



Plan your dream wedding with Lisa.