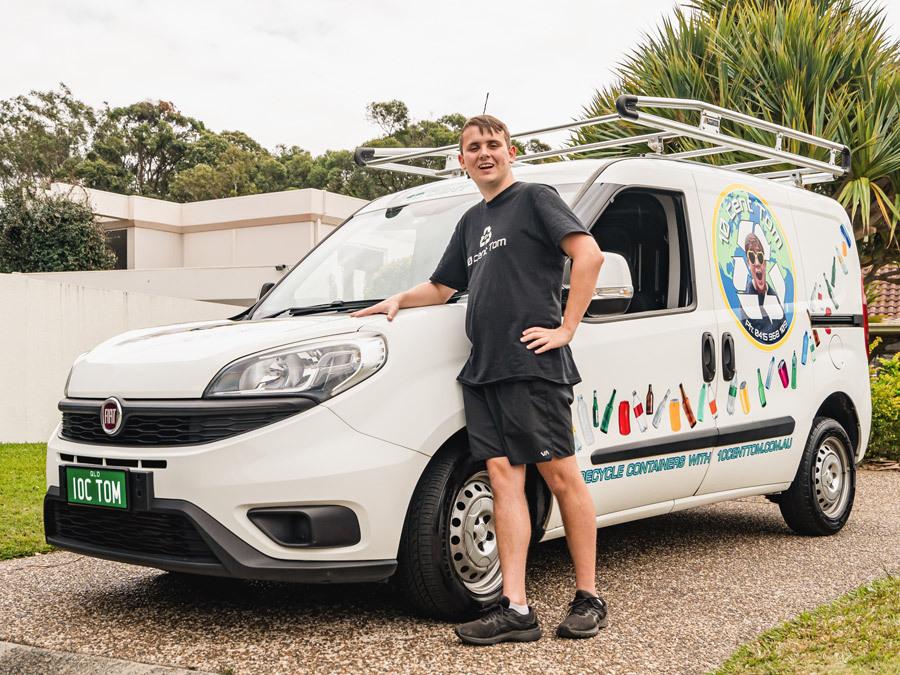 Wednesday, November 29th 2023
Go Green
With big dreams, hard work and striking green personalised plates, 10 Cent Tom is well on his way to achieving his ambitious goals.
On a mission to save the planet and employ people with a disability, just like him, 10 Cent Tom drops-off and picks-up recycling wheelie bins for businesses and events throughout the Gold Coast who are looking to reduce waste.
Since starting out over two years ago, Tom has come a long way from his humble beginnings using his bike for transportation and his parents' garage as a storage facility, to now collecting cans in the highly recognised 10 Cent Tom van and recycling up to 20,000 cans and bottles each week at the disposal centre.
"My favourite thing about my van, is my personalised plates," he said.
He carefully chose the combination and colour to reflect what 10 Cent Tom's mission is all about – to create a socially and environmentally greener tomorrow.
Tom's 10C TOM plates fill him with a sense of pride and help him spread the word about 10 Cent Tom on the streets of the Gold Coast.
"My plates are green because I'm on a mission to save the planet."
Alongside his ambitious goals to have a 10 Cent Tom depot, Tom hopes to grow his fleet of vans with personalised plates.
"One day I'll have a whole fleet of vans with personalised plates."