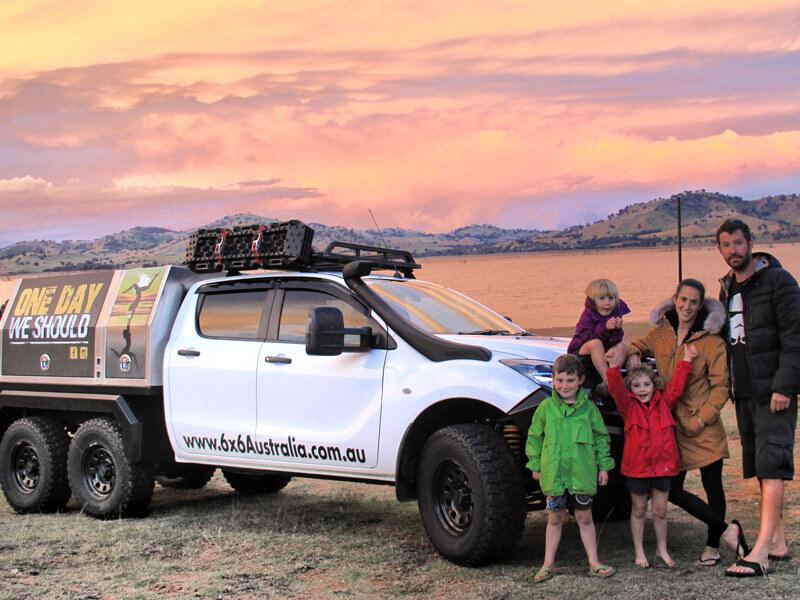 Wednesday, November 29th 2023
From 0N3D4Y to Now
From creek to coast, summit to sea, one family is on a mission to explore everything Australia has to offer.
The Gibbons Family loves the outdoors and in 2017 decided to take a leap of faith by challenging themselves to do a lap around Australia in their customised 6x6 family ute.
Blogging about their adventures along the way, the family of five completed the lap in 12 months. According to mum, Kirby, the trip ignited a passion to take up travelling full time.
"I guess it's the great Australian dream to set off on a trip around Australia. Once we decided to do it, we just put a plan in place and continued to work towards that goal until we finally hit the road indefinitely," Kirby said.
The decision to embark on the journey as a family was celebrated by their 0N3 D4Y Colour Plates which shows their appreciation for the 'One Day We Should' motto.
Snapping up a great deal during the annual PPQ RACQ discount month in August, Kirby saw the perfect combination as a Father's Day present for her husband.
"The 3 letters and 3 numbers Colour Plates are normally $475 but ordering during the August promotion saved us a lot. I think we managed to get our combination for just over $400. Hard to go past for that price 👌."
The family set off for round two in December and are enjoying playing out every day as it comes, exploring the great Aussie land.
"We've been 4WD-ing (or should I say 6WD-ing), hiking, camping and exploring the wild Tasmanian wilderness," Kirby added.
"We recently upgraded to the 6x6 converted ute for its off-road capability as well as the huge GVM increase. Vehicle weights have become a huge issue for people like us who are travelling full time and towing a significant amount of gear."
Kirby says they have big plans for their travels after finishing off at their current journey around Tasmania.
"We do have a few destinations we would love to tick off this year like heading to Cape York, Fraser Island, the Simpson Desert and the Victorian High Country to explore more of what we enjoyed on our first trip there."
As for their three young children, the pair said they are loving their free and adventurous upbringing as well as the motto that 0N3D4Y stands for.
"They think the plates are great! The kids know it's our blog name and they think it's really special to be a part of that. Especially when they hear people talking about 'One Day' or 'One Day We Should', the kids excitedly run up to us and tell us those guys are talking about us," Kirby said.