Driven by a Weekend Ritual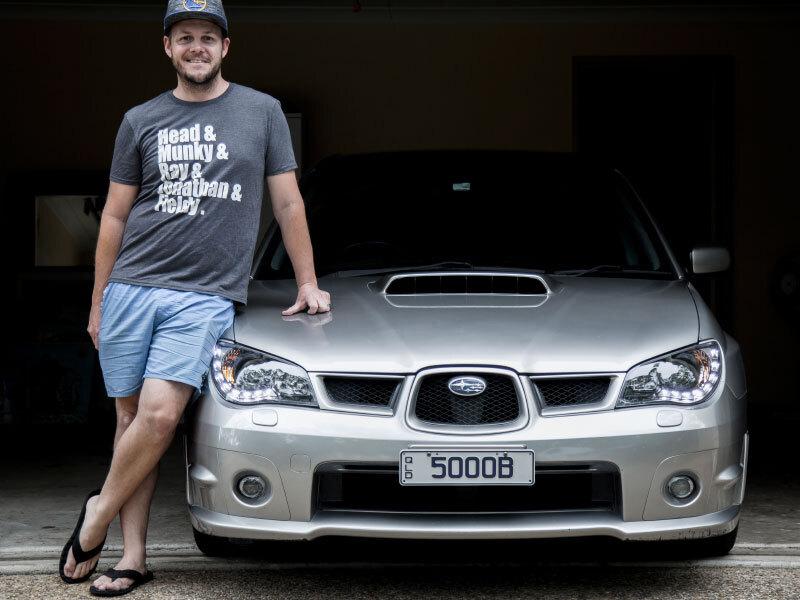 Thursday, December 7th 2023
Driven by a Weekend Ritual
For Queenslanders across the state, weekends are marked by countless opportunities for adventure and relaxation. Ranging from road trips exploring Queensland's natural beauty, to enjoying a coffee at the local markets, the rituals and hobbies are vast.
For plate owner and Brisbane local Nick Mehaffey, weekends are all about chasing the perfect picture.
An electrician by trade, Nick has turned his hobby into a freelance photography business, and on the weekends swaps his drill for a camera lens.
It all began with a love for his Subaru and a desire to capture unique photographs of great plates on pristine cars.
Nick's current plates, 50OOB, sit proudly on his 2006 Subaru Impreza WRX.
The plates carry a personal connection, reminding him of treasured memories of time spent with his mother.
"Mum and I affectionately called Subarus 'Soobs. Before she passed away she gave the plates to me as a gift. Buying a Subaru in her honour was always going to happen."
Nick's style of photography is based on composite imagery, showcasing how experimenting with aperture and exposure can transform a simple phototherapy into extraordinary pieces of art.
Nick's freelance photography business, 'Weekend Ritual Photography', is heavily centred around automotive photography.
"I'm always looking to try new things creatively," says Nick.
"My current focus is exploring light trail techniques around vehicles."
Nick credits the supportive culture of the Queensland automotive community with helping him finesse his style of photography.
"There's nothing better than going to an event with my camera and photographing everything from brand new supercars, electric vehicles, highly modified track cars and old school muscle cars."
But despite his contemporary techniques, Nick carries an admiration for tradition, which transpires him to continue to evolve his photography skills.
"I look towards commercial automotive photographers like Chris Benny and Easton Chang," Nick says.
For Nick, the finishing touch to his Subaru are his plates; his combination 50OOB is more than just numbers and letters.
"I love the fact that my car has its own identity. Being able to relay my passion for Subaru's through my plates gives me a huge sense of pride."
In addition to creating the finished look for his car, Nick says his plates are an asset to his work as well.
"Nothing gets my car noticed more than the personalised plates adorning it."
"With the hashtag revolution in full effect, the plates are a great way to get noticed on social media too."
With his unique style of old meets new, Nick continues to develop his keen interest.
For this modest photographer, the perfect Weekend Ritual is always fuelled by the open road and extraordinary cars.
Weekend Ritual Photography offers services to all types of car owners.