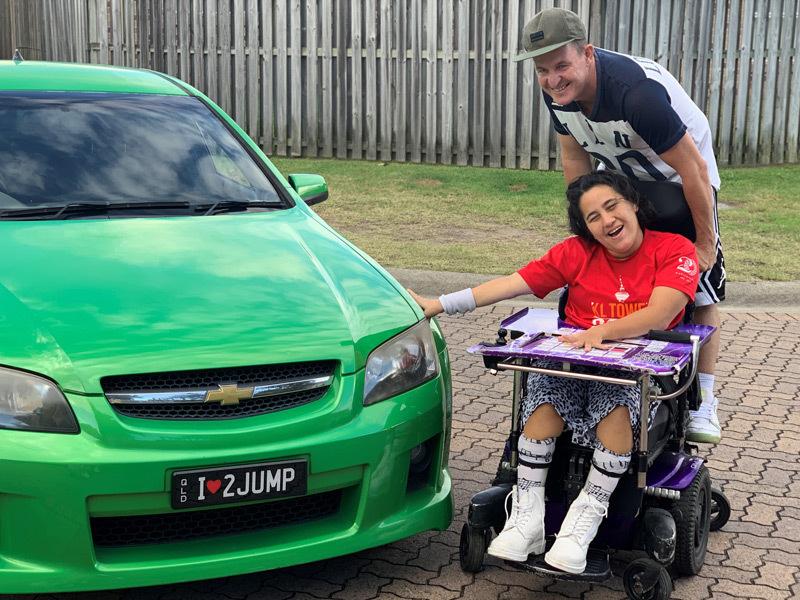 Wednesday, November 29th 2023
Dreams Worth Jumping For
Fearless in her pursuit for adrenaline, Gold Coast local, Marlena Katene has used her influence to help alter perceptions of disabilities within her community, all whilst living out her dreams.
Marlena Katene's Inspiring Plate Story
Living with cerebral palsy, Marlena is breaking the mould and isn't letting anything get in her way of pursuing her dreams.
Through her love of skydiving and base jumping, passion for music journalism and success in owning her own small-business, 28-year-old Marlena has broken numerous stereotypes faced in her everyday life.
After Marlena's best friend and business partner Bert Hibbert inspired her to try skydiving for the first time in 2013, Marlena was hooked on jumping and her love for the adrenaline-fuelled hobby grew from there.
Originally stepping out of her comfort zone and rising to the challenge for her first jump, Marlena skydived a further twenty times before seeking out a new challenge.
In her search for something epic, Marlena came across base jumping and in 2016 she became the first person with cerebral palsy to base jump.
With her world record breaking jump taking place at Kuala Lumpur Tower, a 421-metre structure in the heart of Malaysia's capital city, Marlena has proven she can do anything she sets her mind to.
In an attempt to re-create the exhilarating feeling that jumping provides, a little closer to home, Marlena now regularly visits iFly Gold Coast, an indoor skydiving centre that simulates a true free-fall experience in a vertical wind tunnel.
Marlena can often be found flying in the wind tunnels with iFly instructors who are passionate about supporting her dreams.
"It's inspiring for us to have someone like Marlena come into the facility and take part in what we are doing," Gold Coast iFly instructor and coach Mike Briggs said.
Marlena described the experience of jumping as a feeling she had never experienced before.
"Having cerebral palsy, I can't always control my body but jumping, whether it's from a plane or at iFly, gives me a sense of weightlessness, freedom and control," Marlena explained.
After watching her school friends all get their first part time jobs, Marlena looked for a creative way she could earn an income.
In 2007 when Marlena was just 15 years old, she purchased a jumping castle business - Burleigh Bouncers, and continues to run the successful business today.
Whilst Marlena wasn't able to carry out some of the physical aspects associated with running the business, she had support from her business partner, Bert Hibbert, who was willing to assist wherever he could.
"I was happy to support Marlena with the physical elements required to run Burleigh Bouncers as it was exciting that she was making an investment into her future," Bert said.
In line with her journalism major and passion for music journalism, during her time studying at Griffith University, Marlena started interviewing local bands and artists at local venues.
Since graduating university in 2014, Marlena has had the pleasure of interviewing A-list celebrities, such as Boy George, Gang of Youth, Robbie Williams, Kylie Minogue and Russell Brand, just to name a few.
Marlena has also crossed paths and rubbed shoulders with other notable celebrities, including Nelly, Ricky Martian, Ed Sheeran, the Delhi Llama and the Pope.
Marlena's impressive track record flaunting her interview skills and her determination to excel underpins her rising success as a music journalist and most notably, numerous personal invitations to the Aria Awards.
Marlena received her first set of plates, spelling her name out loud and proud, MARLENA, as a birthday present which are fitted on her specially modified dark blue Mercedes-Benz V250 Wagon.
Marlena says her Black Flexi with Pink writing adds something special to her everyday vehicle.
With the Burleigh Bouncers business growing every year, Marlena and her business partner Bert, required a Ute in order to easily transport the jumping castles and any additional equipment in the tray back.
After purchasing their bright green Holden Commodore Ute for the business, Marlena looked for a personalised plate that would perfectly reflect the business and her personality.
With base jumping, skydiving and jumping castles, the act of 'jumping' shines bright through Marlena's list hobbies and ventures, therefore, I <3 2JUMP was the perfect plate for Marlena.
"The plates fitted her personality perfectly," Bert explained.
To add to Marlena's outstanding resume, she has also published a coffee table book "Dare To Be You" with friend Jessica Irwin.
Her incredible list of achievements and fearless 'go getter' attitude continuously breaking stereotypical barriers, Marlena is an inspiration to many.
Her determination to prove that nothing can stop her from achieving her dreams has been at the forefront of all of her achievements thus far.
In the words of Marlena herself, "The sky's not the limit, there are footprints on the moon aren't there?"