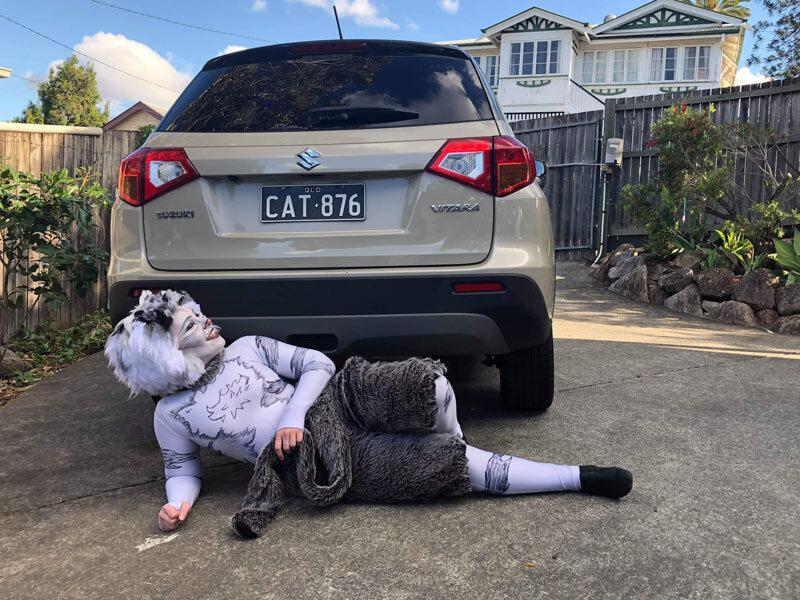 Thursday, December 7th 2023
Cat Stars in Cats
Brisbane resident Catherine 'Cat' Schwarten is set to star as Lady Griddlebone in an upcoming performance of the hit musical 'Cats' with Queensland Musical Theatre.
Originally hailing from Rockhampton, the 25-year-old has found the perfect way to marry her love of felines, musical theatre and stay true to her childhood nickname.
Cat fell in love with the world of performing after she appeared in a pantomime version of Aladdin at the age of eight with Rockhampton Musical Union Youth Choir (RMUYC).
"There's just something about singing and dancing that makes a stage show so magical," Cat explained.
In 2016, Cat landed her first principal role with Rockhampton Musical Union as Truly Scrumptious in "Chitty Chitty Bang Bang" and the year after landed the role of Cosette in "Les Miserables".
Cat loved transforming into characters with wigs, makeup and costumes on stage, so it isn't too surprising that she also found a passion for cosplaying.
When a group of her friends took the trip from Rockhampton to attend Supanova in Brisbane, Cat was intrigued and went along for the ride.
Not knowing much about cosplay apart from the fact her friends were all dressing up as their favourite pop culture characters, Cat decided to make her own costume to portray Tiny Tina from one of her favourite video games, Borderlands.
Using the items she had around the house, Cat skilfully created her costume out of gaffa tape, scrap material, glue and toilet rolls.
Held together with a safety pin, Cat used her mum's sewing machine to create what she describes as 'the worst orange pants you've ever seen' to complete her costume.
Despite the pants, Cat loved stepping into a new character with other like-minded people, and has since brought many characters to life, including Rapunzel and Spider Girl.
"I had so much fun that I decided to do it again and again, and the rest is history - I've been cosplaying for more than five years now!" Cat explained.
Just two months after moving to Brisbane, Cat stumbled upon a Queensland Musical Theatre Instagram post announcing that they were holding auditions for Andrew Lloyd Webber's "Cats" the following week.
Recalling a childhood obsession with the 1998 movie, Cat instantly applied for an audition slot, using the old movie for inspiration as she prepared.
Cat won over the panel with her sweet soprano voice to land the role of Griddlebone, a self-centred fluffy Persian cat.
It's the perfect role for the aspiring performer - Cat's pet, Mia, is a beautiful white fluffy Persian just like the character she'll be portraying on stage.
"I actually studied Mia's face to craft my makeup for this show!" Cat said.
Cat's new role doesn't just match her preference for pets, it's brought new meaning to her personalised plates, too.
When she bought her first car in 2012, Cat knew she wanted to personalise it, immediately searching for a combination that would suit her personality.
With "Cat" being so important not only as her nickname, but also as her favourite animal, she knew she would need to feature those letters on her plate.
Cat decided on descending numbers to finish off her combination and purchased her Black and White Colour Plates with CAT876.
"I went with white on a black background because I knew it would match any car I had in the future and it made the letters pop," Cat explained.
Nervous to make the big move from Rockhampton to Brisbane, Cat was delighted to find a home in community theatre and the "Cats" cast and crew.
"Moving can be hard, but everyone has been so welcoming and kind and I have made many lifelong friends which I am so thankful for," Cat explained.
Describing "Cats" as the most exhausting but also the best rehearsal period she's been through yet, Cat is excited to bring Lady Griddlebone to life from 25 October to 3 November at the Schonell Theatre in Brisbane.
"It's been funny having conversations about my involvement with Cats the musical - yes I'm Cat and I play a cat in Cats!"
We're sure this won't be the last time we see Cat star on Brisbane stages as it's on her bucket list to play Maria in The Sound of Music.