"After Dad passed away, I saw the plate was available. It completes the car!"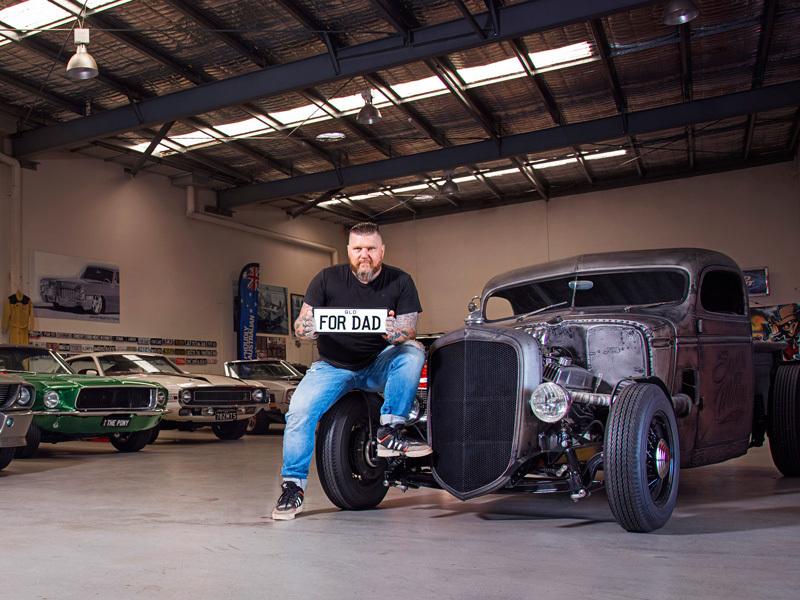 Wednesday, November 29th 2023
"After Dad passed away, I saw the plate was available. It completes the car!"
Ben is no stranger to classic cars, but there's one in particular that started his life-long obsession. His Dad's Ford Falcon XB GS Coupe, in Tango Orange.
"I remember sitting on Dad's lap at about age 7, trying to steer the coupe while he worked the pedals and we tore up the dirt roads," he reminisces, "I was obsessed".
It may have meant the world to a young boy, but to his father, Bruce, it was just another car. In 1982, Ben came home and the car was gone. "He just walked in and said he'd sold it; as a kid, I always felt a bit responsible. I used to get car sick in the back of the coupe, with those little windows."
The family Ford may have gone, but Ben's passion stayed strong. So strong, it resulted in a career – building and selling classic muscle cars from his restoration shop in Nerang.
"People come in, and sit in these old cars, wrap their hands around the steering wheel and tell me, 'If I owned this it'd make me feel 30 years younger', I always say 'Buy it then', because nothing else will."
In 2004, Ben's dad, Bruce, was diagnosed with Parkinson's. Shaken by the news, but motivated to find a project to keep his father active, and hopefully rekindle some childhood memories, Ben set out to find another XB Ford Coupe they could restore together.
After twelve months of searching, and with his father's health deteriorating daily, Ben received a call from a South Australian man who uttered the fateful words. "I think I've got your old man's coupe in my garage."
Ben bought the coupe for $800 and immediately scheduled for it to be towed from South Australia to Queensland, to surprise his dad.
"He just stared at me with a look I'll never forget and put his book down," Ben recalls.
"Mum said, in her best Oscar award-winning voice, 'What is it, Bruce? What's happened?'. 'Me old car', dad said. 'He's got it!'."
The first thing he bought for the car was a set of personalised plates with the combination DAD576.
In 2010, before the coupe restoration could be completed, Bruce passed away. Since then, Ben has been carefully restoring the car as a passion project. The entire process has taken years, painstakingly poring over every detail.
In 2016, Ben found the perfect addition to the project – the personalised plate, FOR DAD. "I couldn't believe it was still available; everyone has a dad."
"He was the best father and husband to my Mother we could have ever wished for. Our relationship was strong, but there's nothing I can say to express how much I appreciate him looking after our family. That's why I dedicate this car to my dad."
Ben has since passed down another Ford to his son Luke, a 1976 XB GS Sedan. Carrying on the generational pride, Ben gave the car to his son, complete with the personalised plate, FOR LUKE. "The plate said it all, no words were necessary – he has his dad's car, and I have mine."
Ben's family proudly displays their love of classic cars, with plates as heartfelt as the stories behind them.