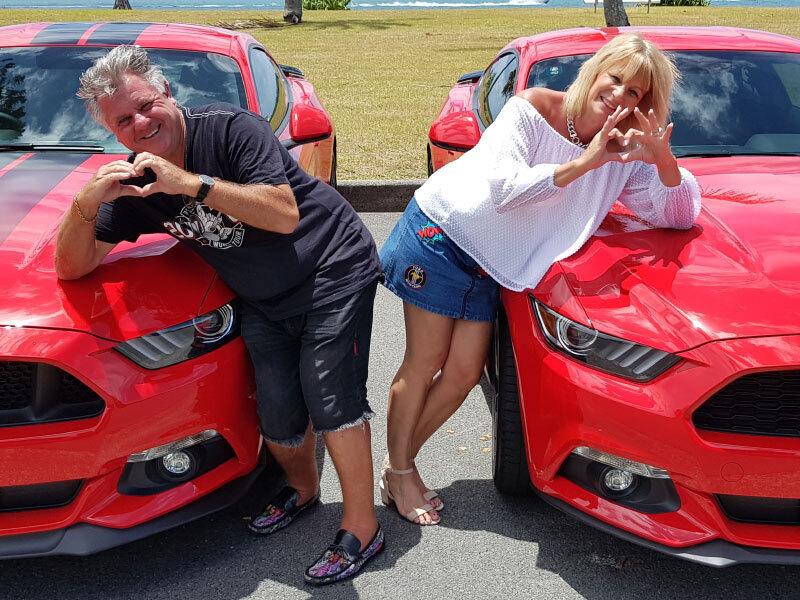 Wednesday, November 29th 2023
A Turbo-Powered Love
For most people, chocolates and roses are the standard Valentine's Day gift of choice, but for loved-up plate owners Neil Palmer and Pamla Palmer, there's nothing more romantic than sharing a passion for plates and cars.
Neil and his wife Pamla are Runaway Bay locals who sport not only matching red Mustang GTs, but personalised "I Love" plates as well.
A mark of true love, the two share similar interests and a quirky sense of humour, but for these two lovebirds, an open road and a full tank are the ultimate love affair.
Neil freely admits he's head over heels for plates, having collected over eight sets throughout the years.
Across his various sets of plates, Neil's combinations highlight his hobbies, interests, and even celebrities.
"I was in England in 1985 and saw first-hand how valuable personalised plates were."
"I have a personalised plate for my Ford Falcon G6, with the combination MYG06. I also owned the number plate ANSETT, and sold it to Ansett Couriers. In 1997, I was so saddened by the death of Princess Diana that I bought the number plate DI4EVR."
In 2016, when PPQ's "I Love" plates were first launched, Neil purchased the plate I ❤ MYV8 for his Ford Mustang GT V8. A red Mustang with so much heart deserved the perfect set of plates to finish it off!
"I wanted a plate to compliment my car," Neil recalls.
The following year, in the ultimate grandiose gesture of love for his plate-loving wife, Neil surprised Pamla with an identical red Ford Mustang and set of I Love plates.
"When the I Love personalised plates went on the market again I purchased I ❤ MY ONE for Pamla. I planned a special Valentine's Day that year. We both love our plates!"
"Pam was screaming with joy and excitement when I told her I was going to buy her a Mustang. When I told her, it was almost too much- the excitement had her bouncing around the house with happiness."
Since then, Neil says the plates have been a big hit wherever he, Pamla and the two Mustangs go.
"We get reactions on almost a daily basis regarding our cars and number plates."
"I look into my rear-view mirror at traffic lights to see people taking photos of my plate."
Neil first heard about the limited edition I Love plates through the PPQ PL8M8 newsletter.
"I received an email from Personalised Plates Queensland, and immediately checked out the new plates."
Neil and Pamla were wed in Las Vegas last year, and the pair sealed their vows with none other than Elvis escorting them down the aisle.
Whether in Vegas or the Gold Coast, these two happy plate owners proudly wear their hearts on their bumpers, all year round.